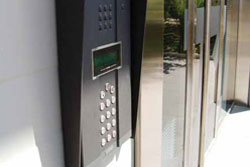 Door Entry & Intercom Systems
A variety of Door Entry solutions are available, ranging from Audio only to full colour Video Intercoms using either an analogue or digital platform. These can be a one call button unit for a dedicated Front Door to multiple call button units for multi-tenanted sites.

The Hardware is available in a variety of finishes. External vandal resistant stainless steel call stations can be installed in areas of high risk. Internally, there is now a wide choice of flush fitting or surface mounted Monitor/Handsets, many of which have different colour finishes.

Access Control can be integrated, via a built-in keypad or with proximity readers.

Traditional cabled configurations are available and existing cabling can be utilised on upgrades with the advent of digital technology. Wireless and GSM platforms provide reliable alternative applications especially when the installation of new cabling can be costly and difficult to hide.