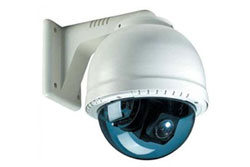 CCTV
CCTV - Closed Circuit Television - is having a major impact on the prevention and detection of crime.

Closed Circuit Television offers many advantages to reducing crime and unauthorized access or to act as a crime deterrent. CCTV is not only used as a deterrent but CCTV provides continuous surveillance of premises and records can be used as valuable evidence if needed . CCTV is of particular value to the health and safety of your employees as it protects their welfare whilst at work.

Our experience in this fast developing field means we can advise on all manner of CCTV camera systems and provide you with the specification to best suit your needs, whether for local control or remote monitoring.

Camera's

At JBD SECURITY we install many different types of Camera's whether they may be Vandal resistant cameras to internal dome camera's, to fully functional cameras where you can pan, tilt and zoom.

Digital Video Recorders

To record CCTV we use DVR'S (Digital video recorders), which can take from 4 to 16 cameras, which also have different hard drives in depending on how long you need to record for, the DVR will overwrite the oldest information so you will have no reason for it to be not recording if the hard drive fills up.

If any incidents happen you can either put the video footage on a USB stick or a disk, which then can be passed on to the police for further investigation.

The DVR' S can also be link over the Internet so you can view your camera's any where in the world or on your smart phone.